EPIC FREE RIGGING DEAL!
Score up to $3670 worth of free rigging on all F115 – F300 outboard purchases at your local participating Yamaha dealer.
Offer ends August 31st.
Here's a great reason to update your Yamaha outboard today! Customers who purchase a new F115 – F300 (including VMAX SHO models) outboard between 1st June and 31st August 2020, will score a free rigging kit, consisting of Command Link Gauges and Controls to the value of up to $3,670.
Backed by Yamaha's legendary reputation for reliability, you are buying more than just an outboard, you're buying peace-of-mind boating.
Hurry! Register your interest below or contact your local Yamaha Outboard Dealership for further details and to take advantage of Yamaha's limited time offers.
Disclaimer: Promotion only available on Yamaha F115 – F300 (Inc. VF115 – VF250) four-stroke outboards purchased between 01/06/20 and 31/08/20. Up to $3,670 worth of free rigging represents the maximum RRP value of the applicable F300 rigging kit. Free promotional F115-F300 outboard rigging kits consist of: 6YC Command Link gauge kit; 703 single control (F115 – F200B) RRP value $1,937.12, 6X6 Single Control (F150CA – F300) RRP value $3673.87. Counter rotating models receive the following, equivalent to the difference of the twin rigging kit. LF115 – LF200A RRP value $1,355.95, LF200C – LF300 RRP value $1,622.36.  Customers may upgrade rigging at an additional cost, substitute kits may be supplied as an equivalent option. No propellers are included in this promotion. Offer available to private buyers only, promotion cannot be redeemed for cash.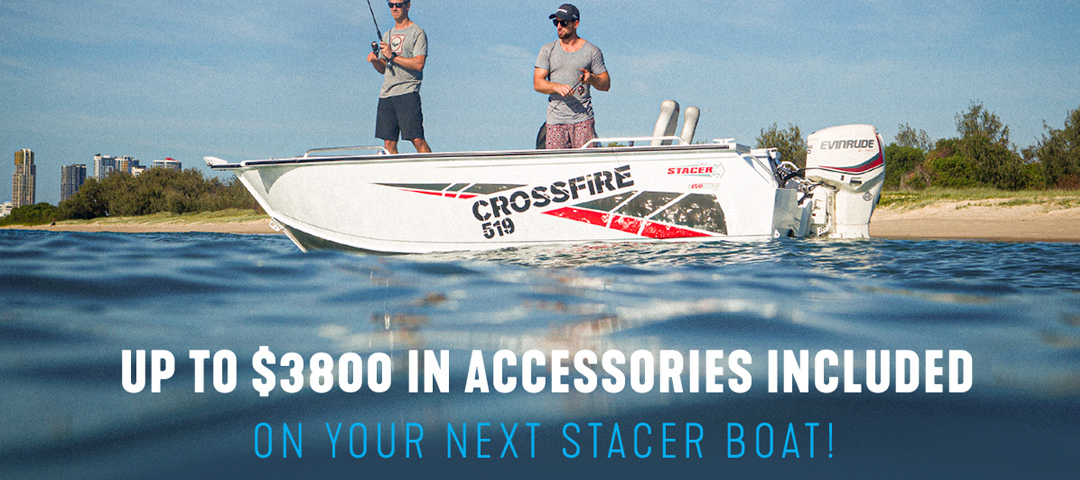 Terms and Conditions
The offer is open to Australia residents only and is only applicable to new boat purchases on selected models retailed between May 22nd and August 31st 2020 inclusive by a participating Stacer dealer. Additional value in the form of a pre-defined option package specific to each boat model. This offer is not to be used in conjunction with any other offers or incentives. While stocks last. Telwater reserves the right to extend the offer. Telwater reserves the right to change the offer at any time. Offer available only while stock lasts. Below is a complete list of models with the options included in each offer and their total RRP (incl. GST). 
| | |
| --- | --- |
| Item Description | RRP Incl. GST |
| Stacer Promotion – SeaMaster Runabout Hulls |   |
| Fusion RA70N Sound System + EL602 Speakers 6″ 150W | |
| Upgrade Hyd Steer | |
| Cutting Board Alloy 2008 | |
| Total Options | $3,800 |
| Stacer Promotion – Wildrider Bowrider Hulls (619 Wildrider not included)  |   |
| Upgrade Hyd Steer | |
| Cockpit Table Fitted Bow Area | |
| Cutting Board Alloy 2008 | |
| Total Options | $3,200 |
| Stacer Promotion – 619 Wildrider Bowrider Hulls |   |
| Cockpit Table Fitted Bow Area | |
| Cutting Board Alloy 2008 | |
| Total Options | $1,300 |
| Stacer Promotion – SeaRunner Cabin Hulls |   |
| SE340CAB – Seat Upgrade 2 Elite Pro – 2 Maritime | |
| Upgrade Hyd Steer | |
| Cutting Board Alloy 2008 | |
| Total Options | $3,000 |
| Stacer Promotion – CrossFire Hulls |   |
| Fusion RA70N Sound System + EL602 Speakers 6″ 150W | |
| Upgrade Hyd Steer | |
| Cutting Board Alloy 2008 | |
| Total Options | $3,800 |
| Stacer Promotion – Outlaw Hulls |   |
| Painted Hull 429 – 449 | |
| Seat Upgrade 2 Sea Pro – 2 Elite Pro | |
| Thruster Bracket Bow Mount | |
| Total Options | $2,000 |
| Stacer Promotion – Outlaw Hulls |   |
| Painted Hull 469 – 489 | |
| Seat Upgrade 2 Sea Pro – 2 Elite Pro | |
| Thruster Bracket Bow Mount | |
| Total Options | $2,400 |
| Stacer Promotion – Outlaw Hulls |   |
| Painted Hull 529 | |
| Seat Upgrade 2 Sea Pro – 2 Elite Pro | |
| Thruster Bracket Bow Mount | |
| Total Options | $2,700 |
| Stacer Promotion – 409 / 429 Assault Pro Hulls |   |
| All over two-tone paint colour – inside & out | |
| Thruster Bracket Bow Mount | |
| Total Options | $1,600 |
| Stacer Promotion – 449 Assault Pro Hull |   |
| All over two-tone paint colour – inside & out | |
| Thruster Bracket Bow Mount | |
| Total Options | $2,200 |